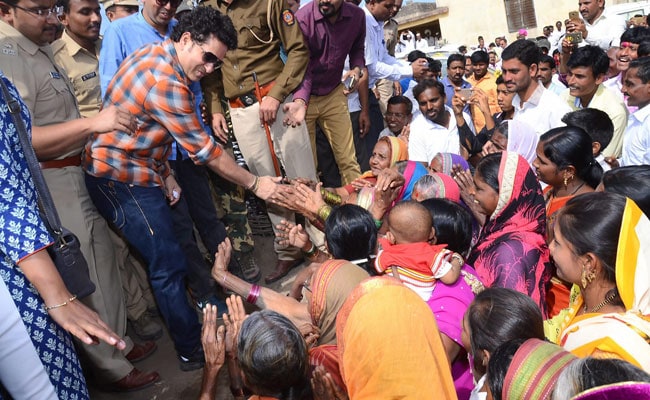 Osmanabad (Maharashtra), Dec 20: Cricketing legend Sachin Tendulkar paid a visit to the tiny Donja village in Osmanabad district in Maharashtra on Tuesday to review and inspect the developmental works taken up there.

The Rajya Sabha MP had 'adopted' the village with a population of around 2,800 people under the Sansad Adarsh Gram Yojana (SAGY) in November 2016 and this was his first visit to the place.

Interacting with Osmanabad Collector R.V. Game, and other senior officials, Tendulkar urged him to "accelerate the pace of development works" which he has sanctioned under the MPLAD (Member of Parliament Local Area Development) funds for the village.

He reviewed the progress of the works to be carried out under the Rs 4 crore committed by him, which include the construction of a water tank with pipelines to the homes of the villagers for giving them access to drinking water, construction of a new school building, and concrete roads along with a sewage system in Donja.

An NGO Happiness InDiya Foundation with which the cricketer is associated, has decided to provide solar energy-based lighting systems to the upcoming school and other public amenities in Donja which has already been accorded ODF (Open Defecation Free) status this year.

Officials explained to him that the tendering process for most of the projects has been completed and work orders have been issued, to which he responded by seeking acceleration of the project implementation.

Donja is the second village adopted by Tendulkar under SAGY after Puttamraju Kandriga in Andhra Pradesh.
 
IANS